Following the best DevOps practices, our cloud engineers interact with development specialists to mutually integrate our workflows into each other in order to ensure the highest quality of the product.
ITSyndicate - a top provider of DevOps as a service all over the globe. We provide a DevOps team for your cloud infrastructure success! According to best practices and DevOps methodology, we help our clients build a solid foundation and reliable house for their application in the web world.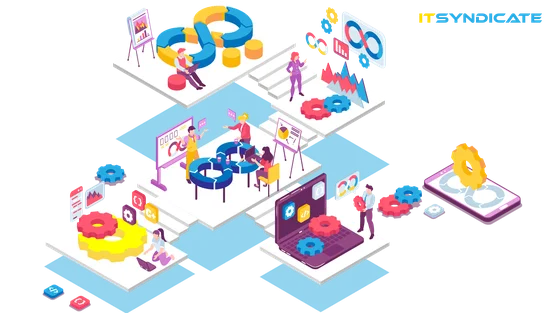 DevOps in the interpretation of ITsyndicate — an engineer who has an impeccable knowledge of Linux, Web Servers, and directly the structure and operation of applications.
We are the link between the Сlient\Developers and the Client's Infrastructure.
Our knowledge and experience are focused on:
- Speed ​​up application development and delivery of code to Production as soon as possible.
- Continuous improvement and updating of the technology stack.
- Minimization of errors and crashes in the application.
- Development of a fault tolerance scheme for the application.
- Application architecture improvements.
And one of the most important — we don't wait until a client set tasks for us, we propose changes to achieve the goals!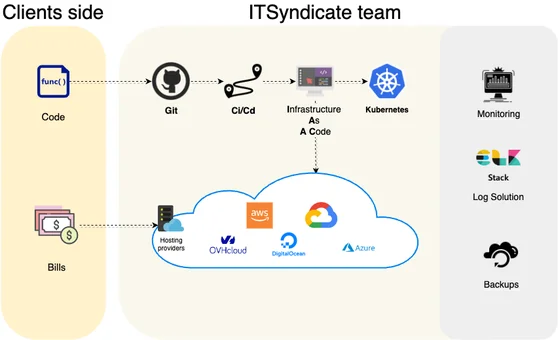 Our DevOps tools list
























You can expect from us:
Get automated deployment, cloud scaling, and manage your cloud resources with our devops team.
Our deployment strategy is to make the process so, any deployment occurs in a way that the user not even notices the changes were applied.
Forget about managing your cloud infrastructure through manual processes. Provision and manage infrastructure through code instead.
We will containerize your application and provide it with the necessary scaling for reliability!
We will ensure a timely response to emergencies and prevent their occurrence in the future.
We will provide your team with timely support to fix problems and implement new functionality!
We will analyze hosting costs and offer you the best solution for your goals and needs!
We will advise your business and development team to implement the right and best solutions. We are the link between infrastructure and business!
Each of our cloud engineers has 8-10 years of experience in cloud infrastructures and IT project management. And you can get from just one to several of our DevOps guys who will work on your project exclusively.
We are certified engineers! Being part of our team, DevOps engineers study and go through their professional path, as the result of this education - certification from industry leaders like AWS, GCP, Kubernetes, etc.
We deliver only triple-checked and tested solutions and can provide kind suggestions/recommendations for our clients so that they can get the most cost-effective and as a result the most profitable satisfaction of their needs.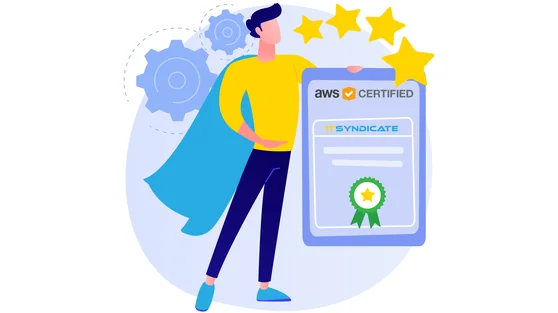 Every solution we implement is based on the most important thing, which is our client's needs. Our experience, skills, and comprehensive knowledge of various cloud technologies allow us to provide you with the most cost-effective and complete solutions. Numerous projects we have completed and delivered gave us an opportunity to see the right way leading to a project's success and exclude bad ways leading to nothing, but failure.
By hiring our cloud engineers, we guarantee you will get numerous advantages for your business: reduced costs for infrastructure resources, improved flexibility, and boosted business redundancy. Cloud technology provides a bunch of new opportunities, and our specialists can consult you on how best to implement it for your particular industry and business environment.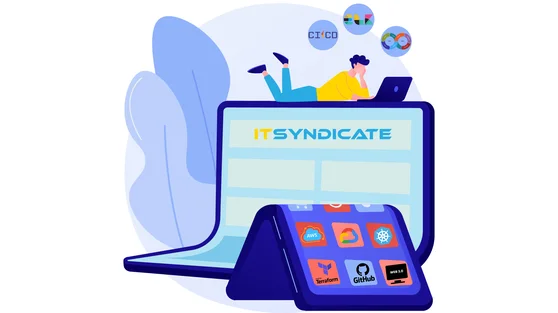 The initial setup, configuration, documentation, and testing of cloud infrastructure are just the beginning. Further management and its support are totally other stuff.
Every solution needs to be taken care of like your favorite car needs maintenance from time to time. So it's always good to have a reliable team that keeps an eye on well being of your cloud infrastructure and know the right monitoring and logs software suitable exactly for your project.
Our team of DevOps engineers has a fantastic experience with various monitoring systems and alerting toolkits and can easily implement and use them in the cloud native ecosystem.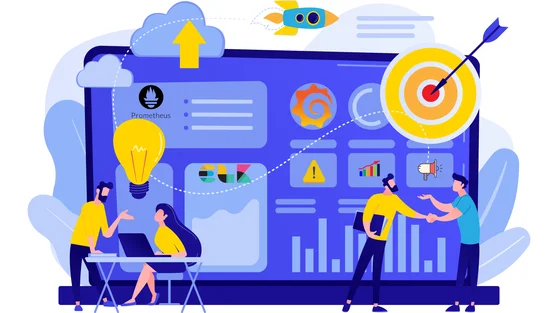 Nowadays, IT project involves the development, maintenance, and use of cloud computing systems, software, and networks for the processing and distribution of project infrastructure data. The central aim of IT management is to generate value through the use of all those technologies and phases so, in conclusion, to achieve all business goals.
So, who ensures that business and technology strategies are in sync? IT project managers.
From our side, you'll have a single person, who will be responsible for your project and you'll always be able to get in touch with him/her to discuss the problems you have and solve them.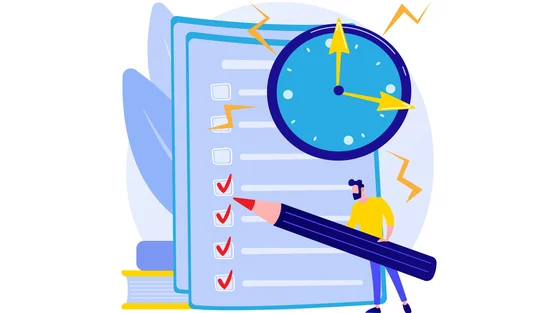 We are a team of DevOps engineers with various unique qualities, knowledge, skills, experience, and brains who will lead your cloud infrastructure to success not only with advice but also with the implementation of best practices.
Contact us via the contact form for detailed information and to schedule a call with our highly qualified specialists.