Reliable development process for your business
At ITSyndicate, we offer DevOps as a Service to businesses seeking efficient, reliable, and scalable DevOps solutions. Our service is designed for organizations looking to streamline their development and operations processes, improve collaboration between teams, and accelerate the deployment of high-quality software.
Our technology stack & tools we use
























Cloud Engineering
We offer to leverage our expertise in cloud DevOps practices to provide top-notch cloud engineering solutions tailored to your specific needs. Our team assists in designing, implementing, and managing your cloud infrastructure, ensuring optimal performance, security, and scalability.
Our experienced professionals are dedicated to helping your business fully harness the power of cloud computing by integrating best-in-class DevOps approaches.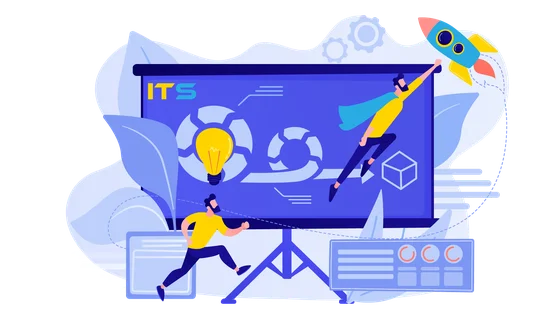 DevOps solutions for businesses
Innovative Startups
On the lookout for efficient software deployment? Our DevOps services are a perfect match, propelling your tech aspirations into reality.
Established Tech and E-Commerce Giants
Navigate the digital realm confidently with our managed DevOps services, designed to enhance your software delivery mechanisms and digital customer experience.
Legacy Enterprises Embarking on Digital Journeys
Our expertise in Infrastructure DevOps serves as your guidepost in the challenging journey of digital transformation, ensuring seamless transitions and enhanced efficiency.
FinTech and HealthTech Leaders
Entrust your sensitive data with our DevOps services, which provide robust and secure software solutions following industry-leading practices.
Government Bodies
Unlock the potential of digital governance with our specialized services in Kubernetes DevOps, securing scalable and reliable public service delivery mechanisms.
Growth-Driven Businesses
For those expanding rapidly, our custom DevOps solutions provide robust support, ensuring optimal software delivery performance.
Accelerate your development with DevOps as a service
Embrace automation, collaboration, and continuous integration. Experience the benefits of DevOps today.
Cloud infrastructure services
Get automated deployment, cloud scaling, and manage your cloud resources with our devops team.
Integration and deployment
Our deployment strategy is to make the process so, any deployment occurs in a way that the user not even notices the changes were applied.
Infrastructure as code
Forget about managing your cloud infrastructure through manual processes. Provision and manage infrastructure through code instead.
Containerization
We will containerize your application and provide it with the necessary scaling for reliability!
Devops consulting service
We will advise your business and development team to implement the right and best solutions. We are the link between infrastructure and business!
Cost optimization
We will analyze hosting costs and offer you the best solution for your goals and needs!
Our DevOps team comprises multi-cloud experts with in-depth knowledge of Linux, web servers, and application structure and operation. We serve as the essential bridge between clients, their developers, and their infrastructure.
Our responsibilities include:
- Accelerating application development and delivering code to production swiftly.
- Continuously improving and updating the technology stack.
- Reducing errors and crashes in applications.
- Designing fault-tolerant application schemes.
- Enhancing application architecture.
As proactive professionals, we don't wait for clients to assign tasks; we actively propose changes to achieve their goals.
We are expertise in DevOps as a services
















Why you should choose us?
Experience
Our team has been providing DevOps services to clients around the world for over 15 years.
Working with the best Hostings
We work with all popular hosting providers such as AWS, GCP, DigitalOcean, OVH, Hetzner and Azure.
Team scalability
We know how many engineers you need at each stage of application development and we are ready to cover these needs.
From development to support
We provide a full cycle of infrastructure work, from design to monitoring and resource reduction.
Constant self-development
Our team develops in step with the development of the IT stack. We follow trends and new technologies.
Follow the best practices
For our DevOps team, these are not just words - this is a lifestyle!
Do you have any questions?
Contact us to learn how our DevOps as a Service can supercharge your development efforts and drive business growth.
We know how to implement the best DevOps practices
Yes, DevOps as a Service can be customized to align with your specific needs. The service provider will work closely with you to understand your requirements and tailor the package accordingly.
DevOps as a Service is beneficial for various industries, including but not limited to software development, e-commerce, finance, healthcare, and telecommunications. It is suitable for any organization seeking efficient and agile software delivery.
Absolutely. DevOps as a Service is designed to support business growth and scalability. It provides automation, scalability, and flexibility, allowing your infrastructure and software delivery processes to adapt seamlessly as your business expands.
DevOps as a Service incorporates security best practices throughout the development and deployment lifecycle. It includes continuous security monitoring, vulnerability management, and compliance checks to ensure your applications and infrastructure remain secure and compliant.
DevOps as a Service leverages a wide range of tools and technologies, including popular ones like Docker, Kubernetes, Jenkins, Git, and Ansible. The specific toolset may vary depending on your business requirements.
Yes, some DevOps as a Service providers offer training and knowledge transfer sessions to help your team understand the implemented processes and technologies. This empowers your internal teams to collaborate effectively and make the most of the DevOps environment.
DevOps as a Service offers numerous benefits such as increased operational efficiency, faster software delivery, improved collaboration, scalability, and enhanced security. It enables businesses to focus on core competencies while leveraging expert DevOps practices.
The pricing for DevOps as a Service typically depends on factors such as the scope of services, the complexity of your infrastructure, and the level of support required. It is best to consult with the service provider to get a detailed pricing structure.
DevOps as a Service includes ongoing support and maintenance. This can involve proactive monitoring, incident management, troubleshooting, and performance optimization to ensure smooth operations.
The implementation timeline for DevOps as a Service varies based on factors such as the complexity of your infrastructure and the extent of customization required. It is best to discuss the timeline with the service provider during the initial consultation.
Request more information today
Discover how our services can benefit your business. Leave your contact information and our team will reach out to provide you with detailed information tailored to your specific needs. Take the next step towards achieving your business goals.