Unleash the power of scalable cloud
For businesses seeking expert help in building and refining their cloud infrastructure. Our adept cloud architects and experienced AWS consultants collaborate with our dedicated team to devise and implement customized solutions, ensuring a robust, scalable, and efficient cloud environment.

Staying present with the latest industry trends and best practices is essential for our experts, who understand the importance of well-architected cloud infrastructure.
Our technology stack & tools we use
























Сloud infrastructure strategy
A well-defined cloud infrastructure strategy is crucial for businesses seeking to leverage the full potential of cloud computing. Our cloud infrastructure engineers and cloud solution architects collaborate to develop a comprehensive plan tailored to your business needs, ensuring that your infrastructure as a cloud solution is efficient and effective.

By working with ITSyndicate, you can access our cloud computing expertise and the latest industry best practices. We are determined to help you create a robust and scalable cloud environment, enabling your business to thrive in today's competitive digital landscape.
AWS consulting
With a wealth of experience conducting thorough cloud assessments, our dedicated team at ITSyndicate specializes in evaluating and implementing solutions tailored to your unique business needs. Every business is different, so our experts meticulously plan and develop an elastic cloud infrastructure that can scale and adapt to your evolving requirements.

Progressing towards the benchmark, our services encompass cloud infrastructure development, where we go the extra mile to ensure your systems are robust, resilient, and ready to meet future challenges.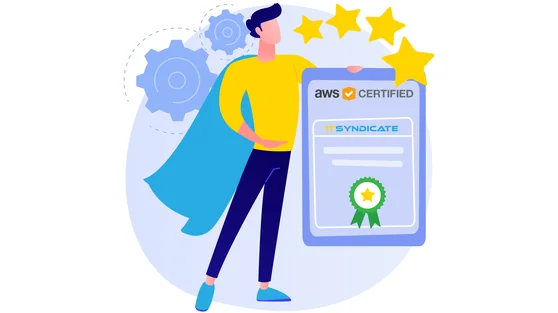 Elevate your business with ITSyndicate
Our experienced cloud architects will create a scalable, secure, and efficient cloud infrastructure tailored specifically for your organization. Contact us today to discuss your cloud architecture design requirements and take your business to the next level.
Why you should choose us?
Experience
Our team has been providing DevOps services to clients around the world for over 15 years.
Working with the best Hostings
We work with all popular hosting providers such as AWS, GCP, DigitalOcean, OVH, Hetzner and Azure.
Team scalability
We know how many engineers you need at each stage of application development and we are ready to cover these needs.
From development to support
We provide a full cycle of infrastructure work, from design to monitoring and resource reduction.
Constant self-development
Our team develops in step with the development of the IT stack. We follow trends and new technologies.
Follow the best practices
For our DevOps team, these are not just words - this is a lifestyle!
Our DevOps team comprises multi-cloud experts with in-depth knowledge of Linux, web servers, and application structure and operation. We serve as the essential bridge between clients, their developers, and their infrastructure.
Our responsibilities include:
- Accelerating application development and delivering code to production swiftly.
- Continuously improving and updating the technology stack.
- Reducing errors and crashes in applications.
- Designing fault-tolerant application schemes.
- Enhancing application architecture.
As proactive professionals, we don't wait for clients to assign tasks; we actively propose changes to achieve their goals.
We are expertise in cloud architect
















Need Solution architect specialist consultancy?
Leave your email and book a call with our specialist.
We are experts in cloud architecture design
Cloud architecture design is the process of designing the elements needed for a cloud service or solution, such as infrastructure, applications, software capabilities, and databases. It defines how all these elements work together to serve specific cloud-based functions, performance goals, and business needs.
A well-designed cloud architecture helps streamline operations, increase productivity, and optimize costs by effectively leveraging cloud resources. It ensures that your cloud-based services are reliable, secure, efficient, and capable of scaling with your business needs.
We design various types of cloud architecture depending on your needs. This includes public, private, and hybrid cloud architectures, along with multi-cloud strategies. Our team also specializes in designing for popular platforms like AWS, Google Cloud Platform, and Microsoft Azure.
Yes, part of our cloud architecture design service involves helping businesses migrate their existing infrastructure to the cloud. We conduct an in-depth analysis of your current setup, identify the optimal cloud solutions, and guide you through the entire migration process.
We incorporate best security practices into our cloud designs, including data encryption, multi-factor authentication, and robust access controls. We also consider compliance standards specific to your industry and help design architectures that adhere to these requirements.
The timeline can vary depending on the complexity of the project, the existing infrastructure, and the specific requirements of your business. Once we understand your needs, we can provide a more accurate estimate.
The cost of a cloud architect can vary greatly based on your specific needs, the architecture's complexity, and the chosen cloud platform. We would be happy to discuss your project and provide a custom quote.
Yes, we believe in building long-term relationships with our clients. Our team is available for ongoing support, maintenance, and optimization of your cloud architecture post-implementation.
Absolutely. Our team is skilled in cloud cost optimization. We can review your current cloud setup, identify inefficiencies, and recommend changes that could save you significant amounts of your cloud spending.
Simply get in touch with us through the contact form on our website or give us a call. We'll schedule a consultation to understand your needs and provide a proposal for your review. We look forward to working with you!
Request more information today
Discover how our services can benefit your business. Leave your contact information and our team will reach out to provide you with detailed information tailored to your specific needs. Take the next step towards achieving your business goals.